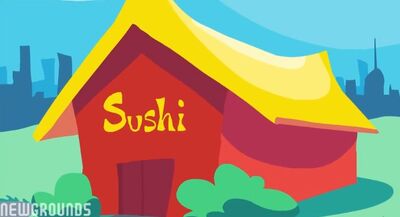 It is the place where the G-Fighters relaxed after fighting some of the Bushido Blasters. It is also the place where the The Real Store Owner and The Imposter Store Owner were killed by Kotomaru.
Flapjacks (Rice)
Syrup (Soy Sauce)
Hotdogs (Sushi) (looks like hamburgers to Galacticamaru)
Flavour Sticks (Chopsticks)
Ad blocker interference detected!
Wikia is a free-to-use site that makes money from advertising. We have a modified experience for viewers using ad blockers

Wikia is not accessible if you've made further modifications. Remove the custom ad blocker rule(s) and the page will load as expected.